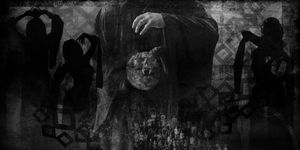 ABOUT DOCKER'S GUILD AND DOUGLAS R. DOCKER
Docker's Guild
a prog metal space opera
PROJECT OUTLINE
Docker's Guild is a massive progressive metal space opera which will unfold through 5 "seasons" and 4 "books" for a total of 9 albums. It is masterminded by producer, songwriter, keyboardist, bassist and singer Douglas R. Docker.
CONCEPT
You will visit the dark world of Silix IV, where a silicon-based techno-organic alien race attempts to wipe out all life on Earth through organized religion, while Jack Heisenberg, a tormented scientist, makes it his mission to save humanity. His quest will take him across the universe and on a personal journey from which there is no return...
Douglas R. Docker
project creator
Douglas R. Docker is a French/American multi instrumentalist, singer, producer, teacher and ethnomusicologist, best known for his activities in the international scene of prog, AOR and classical music. He has collaborated with a wide range of international artists including Therion, Vivaldi Metal Project, The Chronomaster Project, Biloxi, Frantic Amber, Gregg Bissonette, Tony Franklin, Guthrie Govan, Joel, Hoekstra, Sascha Paeth, Jeff Watson, Göran Edman, Tony Mills, John Payne, Anneke Van Giersbergen, Amanda Somerville, Elize Ryd, Nita Strauss and many others.